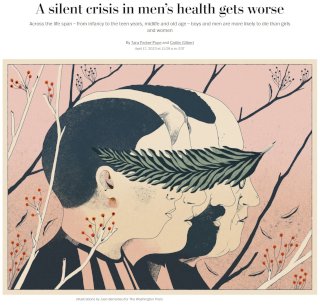 A Silent Crisis in Men's Health Gets Worse
The Washington Post April 17, 2023
A SILENT CRISIS IN MEN'S HEALTH IS SHORTENING THE LIFE SPANS OF FATHERS, HUSBANDS, BROTHERS AND SONS.
Men's health advocates say one of the biggest factors is a lack of infrastructure to support research specifically focused on men's health.
For years, the Men's Health Network has lobbied for the creation of an Office of Men's Health, similar to the Office of Women's Health in Health and Human Services Department. Proposed legislation, however, has consistently failed to win support.
TOP MEN'S HEALTH INTERESTS
Watch an interview with Tennessee Senator Ken Yager on Prostate Cancer Screenings.
WASHINGTON, DC (November 13, 2019) – Men's Health Network (MHN), a national non-profit organization whose mission is to raise awareness of men's health issues, released the following statement regarding HR 3, the House's drug pricing package: While it is encouraging that legislators are working to lower health care costs, it's imperative that the means of... Continue reading→

LATEST NEWS ON MEN'S HEALTH FROM EXTERNAL SOURCES